Seit 2006 ver­anstal­tet die Deutsche Games Schul­meis­ter­schaft ge­mein­sam mit ihren Part­nern eSport-Turniere nur für Schülerinnen und Schüler. Allein im vergangenen Jahr meldeten sich mehr als 100 ver­schie­dene Schulen für den Wett­bewerb an.
Auch dieses Jahr haben wieder insgesamt 600 Schüler/-innen aus ganz Deutschland mitgespielt. Insgesamt konnten sich davon 30 von ihnen für das große Offline Finale im Cologne Game Hub der TH Köln qualifizieren. Ebenso war das Team FireWall als erstes mal als Medienpartner mit dabei und hat unter anderem den Broadcast des 2-tägigen Offline Finales organisiert. Dabei gab es neben Rocket League auch zum ersten mal League of Legends auf unserem Kanal zu sehen!
Team FireWall begeisterte mit den Liveübertragungen der DGS-Finals nicht nur Zuschauer und Fans, sondern auch die teilnehmenden Spieler/-innen und Lehrer/-innen aus der gesamten Republik. Im Namen der DGS bedanke ich mich für die professionelle Zusammenarbeit und freue mich auf zukünftige Projekte.

-Tihak (Product Management DGS)
Überraschung in League of Legends
Die letztjährigen Meister vom Gymnasium Norf reisten bestens vorbereitet mit einem Fernsehteam von KiKa an, um den Wanderpokal der DGS wieder nach Norf zu holen. Ein Teil ihres Traums platzte im WB-Finale, als sie zunächst gegen die Vizemeister von 2018 aus Darmstadt verloren. Im anschließenden LB-Final sorgte das Team vom Goethe-Gymnasium Berlin-Lichterfelde dann für die größte Überraschung: sie kegelten die Vorjahressieger aus Norf mit 2:0 aus dem Turnier. Im spannenden Grand Final verloren sie dann nur knapp gegen die mit einem Bonuspunkt in die Partie gestarteten Darmstädter neuen Schulmeister 2019.
Auch in RL: Vizemeister werden zu Meistern!
Die Rocket League-Geschichte könnte nicht besser gespielt worden sein! Das diesjährige Siegerteam von der Josef-Durler-Schule Rastatt nahm bereits bei den Deutschen Games Schulmeisterschaften 2018 teil und wurde beim letzten Mal Zweiter. Das harte Training der AG hat sich ausgezahlt, denn sie setzten sich souverän 3:0 gegen die Ludwig-Geissler-Schule Hanau und im Grand Final 4:1 gegen das Gymnasium Waldkraiburg durch.
FIFA 19: Schulmeister 2019 wurde 'Deos'
Favorit und S04 Esports-Spieler Michael "Deos" Haan vom St.-Georg-Gymnasium Bocholt konnte sich im ersten Match zunächst knapp gegen Joshua "Hallo255" durchsetzen. Dieser musste im folgenden LB-Final um seinen Finaleinzug bangen, konnte jedoch Marco "Renegade" bezwingen und unterlag im Grand Finale einem souveränen "Deos" mit 3:0 nach Maps.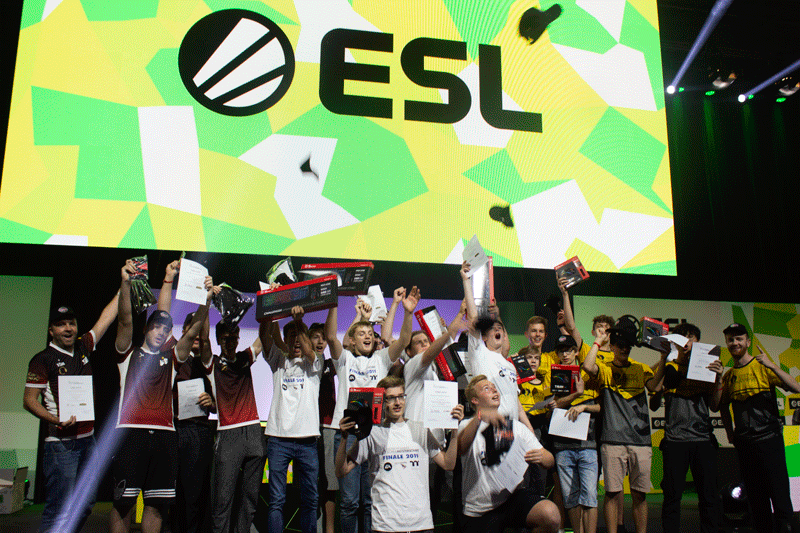 Im Anschluss an das Finale fand die Siegerehrung wieder bei unserem Partner ESL in der ESL-Arena auf der gamescom statt. Alle Finalteilnehmer*innen in Köln erhielten Karten für die gamescom von game – Verband der deutschen Games-Branche e.V. – wie jedes Jahr. Danke dem game Verband!
Das Titelverteidiger-Team aus Neuss wurde während der DGS Finals von dem KiKa Kamerateam begleitet: